Language Course 1 - Intensive Online Course
Deutsch-Uni Online (DUO) provides online German courses at levels A1-C1.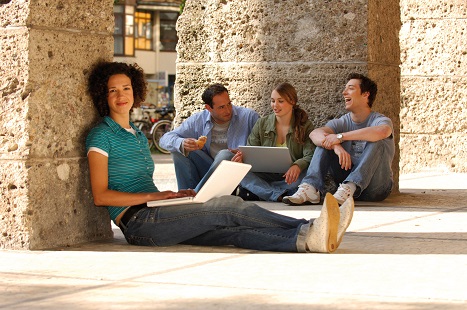 Your online German course offers you full flexibility. You can start learning German before leaving your home country and getting to Munich. You have to work on your German approximately 20 hours/week to participate successfully.
You decide where and when you want to study German.
The aim of the course is to prepare you for your studies at LMU. Intensive tutoring means that your personal tutor will welcome you in your online course and send you your personal curriculum. The curriculum tells you the number of chat sessions, forum posts, auto-corrected exercises, and assignments you have to complete in order to obtain ECTS credit points. On the DUO platform, you will meet your tutor and international students from LMU in chats, forum discussions, and voice chats. Our tools offer you a lot of opportunities to practice your speaking and writing skills.
You can book "Excursion Program" in and around Munich to complement your German class.
target group:

studentsof all disciplines and language levels

course duration: September 2nd - 29th, 2020
hours: 90
tuition: 355,00 €
subsidy:

(

ERASMUS and

LMUexchange

students

from the LMU receive a


subsidy amounting

50,00 €)

ECTS: 3 credits
Information: See how the DUO online courses work https://www.deutsch-uni.com/lernen-mit-duo/
e-mail contact: onlinelernen@deutsch-uni.com
ERASMUS and LMUexchange students from the LMU participating in a language course and/or in historical and the cultural accompanying program receive a subsidy amounting 50,00 € (German Class) 48,00 € (Excursion) each; Students participating in a language course and the accompanying program receive a subsidy amounting 98,00 € each.
Propaedeutic German courses
These courses introduce you to academic German and prepare for your studies. In separate components you learn
how to efficiently prepare for your studies in Munich,
which methods and reading strategies are important for your studies,
how notes, protocols and presentations differ in form and character,
which guidelines to apply when you write an academic paper.
DUO specialised language courses (B2 and above)
These courses teach basic skills by tasks and exercises from leading research as well as subject-specific vocabulary for the following areas of study:
Forestry and Agricultural Science
Engineering
Law
Cultural Studies/Arts
Medicine
Physics, Biology, Chemistry
Psycholinguistics
Economics (business studies)
Registration: here