Study Preparation Program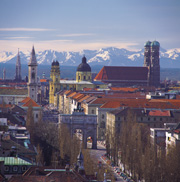 LMU is looking forward to welcoming new international students.
Many of you will be registering at LMU as students of study abroad programs such as Erasmus, LMUexchange and DAAD etc. Students and PhD students from other universities are also welcome to apply for the program, but places for them are limited.

In order to help you to get off to a good start at LMU and in Munich we are organizing a language preparation and orientation program during the month of September and March.
The program is made up of: Language Preparation
You can choose between 3 different types of language preparation:
We encourage you to take advantage of this program as you can improve your language skills, make new acquaintances and get to know LMU in a casual atmosphere.
This new study preparation program is hosted by the International Office of LMU Munich.